Since I was in Minnesota on her B-day I wasn't expecting to do much but watch Niagara. So I went to the mall and I was glad I did. The first store I passed by had a bunch of Marilyn purses. I eneded up getting one of course but one that I liked. I am very picky about the pictures they choose for there purses. There is only some many rinestones or Seven Year Itch pictures I can handle. But I was happy with my purchase.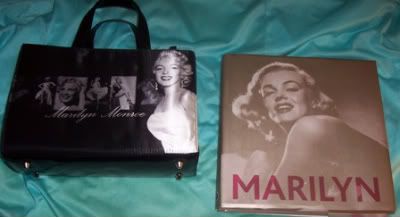 I went into Barnes and Noble and went into the discount section and found 2 Marilyn books that I didn't own! Very good day and one of them just came out recently called Marilyn Montoe treasures, which is a great book to own. The other is also a book I loved which was a pretty picture book that I read in a day. Also when I came home from my trip my Jane Russell autograph finally came in the mail! I mailed her a while ago and finally got it.
I also found a pinup book and a fictional book that caught my interest. The pinup book though was a very handy size and very colorful, Bettie Page was very noticable!