So I went out little by little over the past weekends and had some great finds!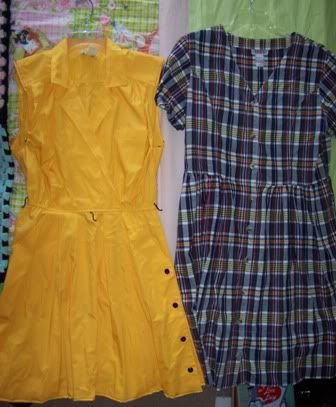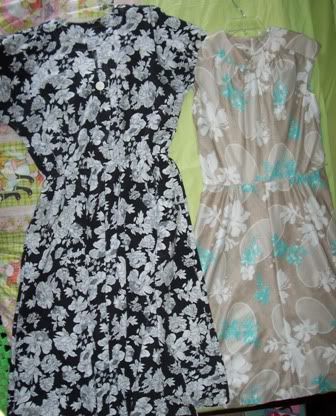 I found some dresses. They are not vintage but vintage inspired but I still loved them. The only thing is I have to always hem them. I may be 23 but I am only 5'1 and if I don't hem them I look shorter than I am... About the yellow dress I had to do a little more work on it than I hoped. When I put it on the sleeves where too much yellow even for me. Believe me I am all about color but I had to chop those suckers off! It made my chest look sooo much wider than it was so I decided to cut them off and just wear a half sleeve black shirt under it. Also a button was missing but since I hemmed it about 9 inches I just took the button from the bottom and sewed it to the top. :) Worked well! I also always wanted a flannel print dress I wear with off white wedges.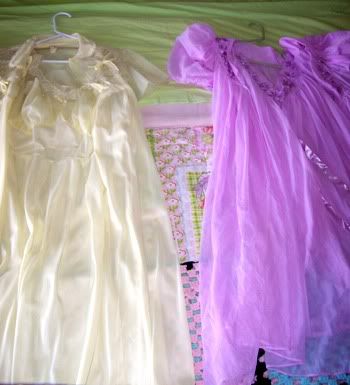 The picture of these nightgowns do not do them justice. I got the yellow one off eBay and the purple one thrifting. I went/am still going through a nightgown phase. I still have more from the past I have yet to post. I was thinking if I dress vintage/inspired for most of the day why not the night? I really feel truly elegant. Just no food in bed when I'm elegant! haha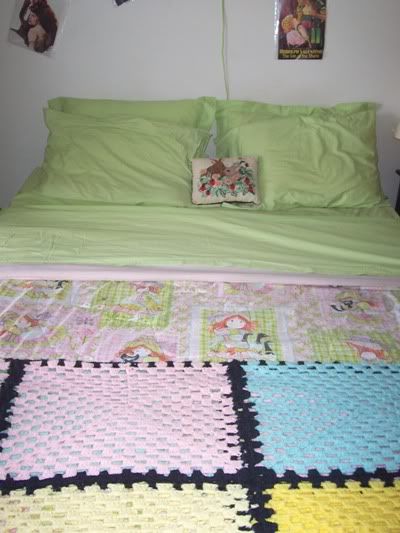 My bed! I thrifted the blanket, the knit, and the bunny pillow. I bought the sheets and pillow cases to match and it was worth it. I think it looks great. The Blanket was $5.00, the knit was $3.00 and the pillow was $1.00. I am very partial to rabbits because I have 2 of my own. :)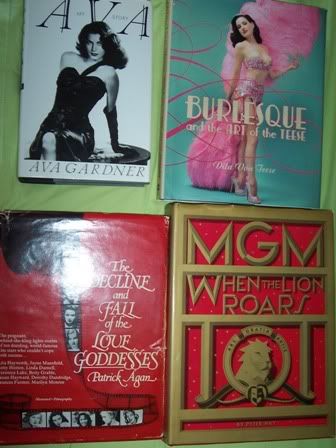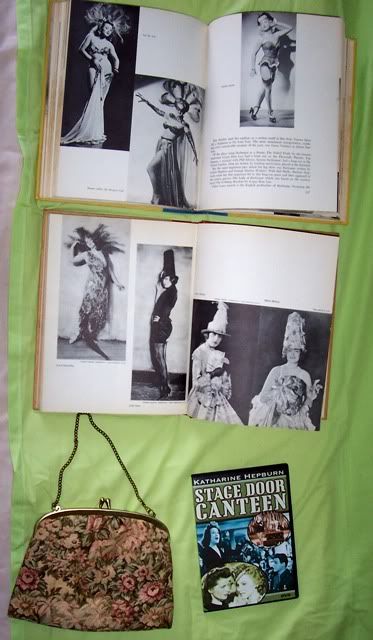 The Ava Gardner book, The MGM and the Love Goddesses books I got at the used book store. They are lovely and I refer to them all the time to get my vintage look and attitude going! Mmm Hmm And the Dita Von Teese Book I got for X-mas is just faboulous! I refer to it all the time, more so the burlesque side than the fetish side but is much apperciated all the same. Nice tips for make-up from victoria times to the 50's. Also has a nice education of burlesque and Dita along the way. Which Inspired me to buy the book in the next pic. The one on the top is a pictorial history of burlesque and the one under that is about Ziefeld Follies. I am about halfway through the Burlesque book, very very interesting. I got the little clutch purse thrifting for a $1.00! And the Katherine Hepburn movie at the dollar tree for 53 cents! I havent watched it yet but for 53 cents I'll just hang on to it.